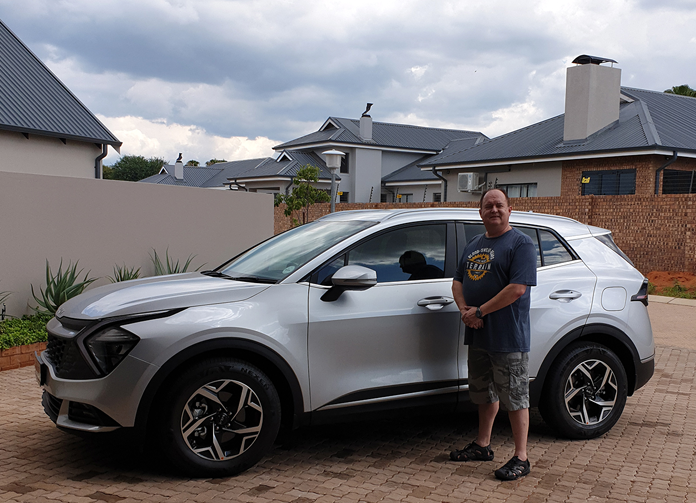 The Kia Sportage has a long heritage as one of the most successful SUVs on the market. First introduced in 1993, the original Sportage line-up came with a variety of body styles. From the third generation, launched in 2010, it was clear the Kia Sportage was set to revolutionise perceptions of the compact Kia crossover for customers and critics alike. Sporting a design that is still regarded as one of Peter Schreyer's finest works, Sportage had finally taken its seat at the table, with an array of awards following in the years after its release.
Antony Smit immediately liked the look of the car when it was introduced in SA and in 2011, he purchased his first Kia Sportage: a 2.0 manual Ignite. "I fell in love with the lines and general look of the vehicle", he says, "and after a test drive it was just the obvious choice."
One of his favourite memories is when they took his first Sportage to visit family in Namibia. According to Anthony, "I remember being impressed by how well the vehicle performed on the beach and in the dunes, especially because it was a normal two-wheel drive. We also loved the luggage space and comfort, which makes a huge difference on long road trips."
Anthony says this first experience of owning a Kia completely sold him on the brand. "We did over 100 000km in our first Sportage with no issues whatsoever. I remember taking it for a service once and asking the service advisor about the steering wheel material that had started chafing. The next thing I know they'd replaced the whole steering wheel at no cost. They also gave me a few tips on how to properly care for the steering wheel material and sent me on my way. It was incredible", he says.
In 2014 Anthony decided it was time for an upgrade. His original Sportage had over 100 000km on the clock and the new model had been released in SA. By then he was in love with the Kia brand and the size and comfort of the Sportage, and the aggressive styling on the new model was just too good to resist. His second Kia Sportage was an Ignite 2.0 Plus, also in manual.
"I should add", says Anthony, "that I did look at several other vehicles. But, as soon as I drove the new Sportage, I was sold. None of my other options lived up to the space and comfort."
With his second Sportage Anthony was once again impressed with the service he received from Kia. As with all vehicles that see proper use, his second Sportage had a problem with a back window control that he thought was probably just a fuse. Kia, however, replaced the full window unit at no cost when it was discovered to me a more complicated issue. According to Anthony: "Firstly, I did over 90 000km in this vehicle and for that to be the only problem is amazing. Combine that with the fantastic service from Kia, and there's no secret why I am such a loyal customer."
In 2018 Anthony was once again due for an upgrade, mainly due to the high mileage. This time, however, he decided to go all-in and opted for a bright red Ignite 2.0 Plus in automatic. "It was time for a new colour and time for an upgrade. I also went for the automatic option for the first time in my life. What a pleasure!", he says.
What did he love most about this one? The automatic gearbox! His third Sportage gained over 50 000km's in the first 12 months – mainly between Limpopo and Pretoria – and apparently the auto box was a life saver in traffic.
Once again, it was a match made in SUV heaven. "I did 107.000km's in this vehicle and a large part of that was long distance and also on farm/dirt roads. My customer base is largely farmers, and I used the vehicle for work and private use. It handled beautifully on the dirt roads and the drive was always enjoyable. I've always wondered why Kia has not yet entered the DAKAR rally!", he says.
Anthony loved his Sportage #3 and admits he was a little emotional on the day he went officially went to trade in for the new model. That said, he'd gotten into a rhythm of trading in his vehicles at around 100 000km and was looking forward to the most recent Sportage on the market.
Anthony took delivery of his brand new 2022 Kia Sportage 1.6 GDI LX Automatic in October this year, and once again he is very happy with his choice, especially the auto box. This time he opted for silver as it's the choice that stood out to him the most.
According to Anthony, "Even though I have test driven other vehicles, this has just become the most effective choice. I obviously love Kia, but the pleasant ownership experience over the past 11 years (that's impressive!) and the reliability of every Sportage I've owned, just makes this choice so easy. I have also made personal friends at the Kia dealership in Mokopane and at this point I just feel like part of the Kia family."
It's only been a few weeks, but his verdict so far: "Once again, Kia have delivered with the new look and the lines of the car. The dashboard and the infotainment system are brilliant, and it has so many extras for an entry level model! I have never owned a turbo and when I heard that South Africa will only be getting a 1.6 model, I was a bit concerned as I loved the 2.0 engine. But I must admit that I am pleasantly surprised by the performance of the 1.6l engine."
Anthony also notes that he is being stopped in traffic or parking areas by people who simply want to take a look at the new Kia Sportage. "This car is awesome, there are so many features and I actually had to take the owner's manual and study everything", he says.
For someone who drives a lot for work, Anthony is especially impressed with safety features such as blind spot assistance. He also mentions that the infotainment system is easy to use and hassle-free to synch with his phone.
About the Kia brand, Anthony says: "This is the best experience I have had with a brand during my 35 odd years of driving, and I have driven several brands in my life. The quality of their vehicles and the incredible service I've received is unbelievable. When you consider this spans over 11 years, 4 vehicles, and more than 400 000km's, I think that says everything you need to know about Kia."
Source: https://www.kia.co.za/